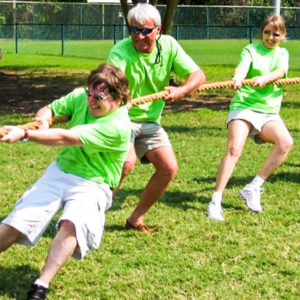 Because the weather cools down and the leaves turn gold, the autumn season is an ideal time to have an outdoor event. Fall is the season of pumpkin picking and bobbing for apples. Whatever the occasion, we can help you plan the best outdoor events in the fall! Use these Orlando event planning tips to get started!
Pumpkin Party
Celebrate autumn with the staple food of the season: the pumpkin. A pumpkin patch theme will draw guests in because it's an activity all ages can enjoy. After your guests have picked their pumpkins, it's time for a pumpkin-carving contest, as well as a pie-eating contest. Award winners with a special prize! Party guests love leaving with something they can take home.
Yard Games for All
With the cooled-down weather, outdoor games aren't as hot and exhausting. Show your guests a good time with lawn games, such as corn hole, potato sack relay, ladder toss, tug-of-war, and more. Not only will you catch your younger attendees' attention, but the grown-ups, too. Our catalog has entertainment for all ages!
Fall-Theme Photo Booth
Document all of the fun at your event with a fall-themed photo booth! The photo booth comes with fall accessories, costume props, backdrops, and a tripod. Guests will be able to remember the day with a keepsake printout customized with fall designs.
Seasonal Flavors
Because farmers are harvesting crops during summer's end, fall is all about farm-to-table fare. Imagine hall tables decorated with gourds, autumn leaves, and fresh pies! Consider seasonal ingredients and flavors, such as cinnamon, pumpkin spice, cider, sweet potato, and squash. Consider spicing things up with a cider-tasting. Your attendees are guaranteed to fall in love with your autumn cuisine! Enjoy your meal picnic-style, with food trucks, or a potluck! Light things up with a bonfire where guests can make their own food, from cooking hot dogs to roasting marshmallows.
Oktoberfest Feast
Oktoberfest celebrations are a major part of Bavarian culture. Honor the German culture with an Oktoberfest feast that includes a variety of Germans beers and staple foods, such as Würstl, sauerkraut, and pretzels. Have your guests dress up in dirndls to truly authenticate German culture!
Fundraisers
Turn your soiree into a charitable event with a fundraiser. Consider charging an entry fee, or coordinate a competition like a chili cook-off. Potential guests will be enticed by the good deed and likely sign up to support!
When it's time for a party, call the Orlando event planning experts at Fun Planners at 407-955-4949, or contact us online. Our team is always here for you, near or far, and can help you take your event to the next level!