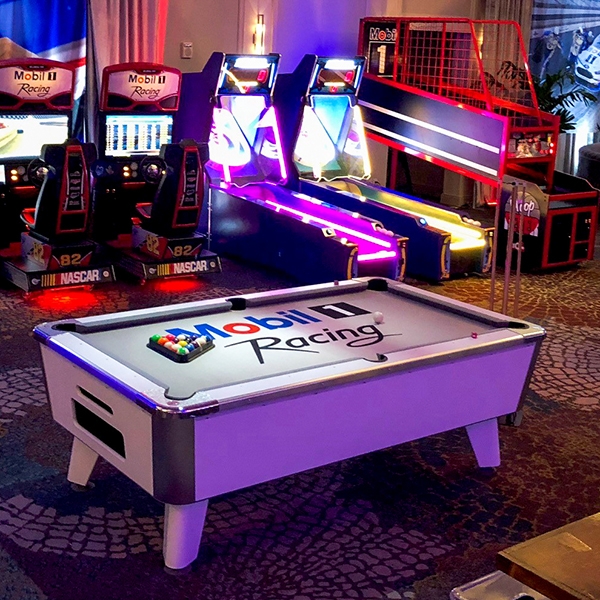 Corporate events can be a great way to improve brand awareness, find new clients, and increase company revenue. When it comes to planning your corporate event, it is essential that you brand the event to positively affect the way the customer perceives your organization. Fun Planners can put your logo or slogan on any of the equipment you rent for your event.
How to Brand an Event
So, how exactly do you brand an event? Event branding goes beyond promoting your logo at a large gathering. However, that is a good place to start. Fun Planners can seamlessly apply your company logo, theme, or colors to anything you might rent for the event, or any products you will provide at the event. Repeating a theme or logo throughout your event can help establish professionalism and consistency with your brand. In addition to your logo, your event should promote the company's mission statement, cause, or state of mind. By working with a graphic designer, you can spread your company's message throughout your event in places that are focused upon or highly trafficked. Sharing what your company stands for and is working toward is what branding is all about.
Who is Your Audience?
A critical piece of branding your event is deciding who you should promote your brand to. Before a corporate event, you need to establish the demographic that will be attending. This could be prospective employees, clients, or business partners, so it's important to make a good impression. It is also crucial for the attendees to know what they're getting out of the event by attending. The guest experience can be the reason your event is a success or a failure.
Why Brand Your Event?
There are many reasons why branding your event will be beneficial for your company and employees. A strong brand presence at the event can provide motivation and direction for your staff. If they are aligned with the organization's goals, they will be determined to help the event run smoothly. In addition, your brand may help set you apart from the competition. There is potential for individuals to attend multiple corporate events, and if yours is unique and well-branded, it will be easier to stick out from the crowd. Lastly, strong branding at corporate events can generate strong referrals. If the event is run smoothly and the attendees are happy, then it creates potential for new clients and employees overall.
When planning an event, branding is a crucial piece to helping share the objectives of your company. Whatever event you may be planning, Fun Planners can help to brand and work with you towards a successful outcome.
For more information, call Fun Planners at 407-9655-4949.