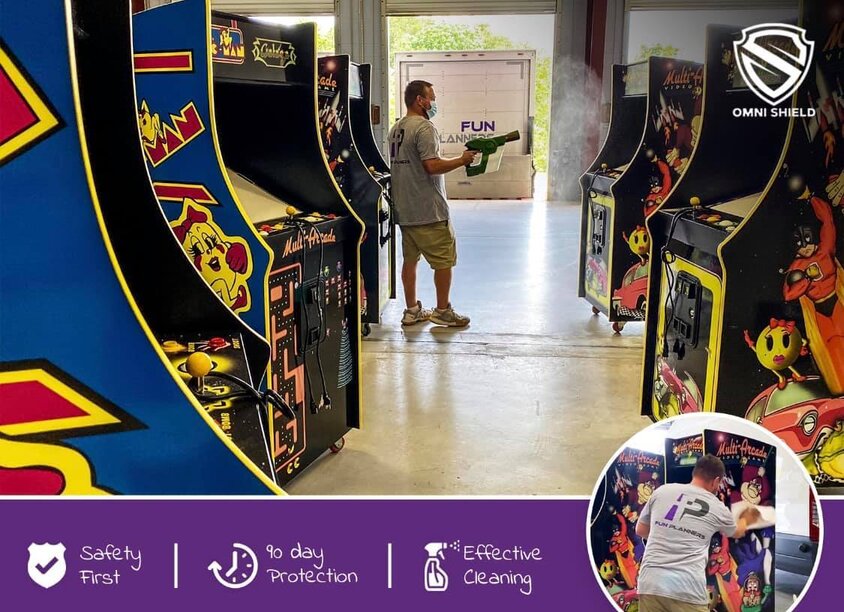 At Fun Planners, our main attraction is an expansive catalog of party rentals. Therefore, we do everything in our power to keep these items safe. By cleaning, disinfecting, and using a surface protectant, we go the extra mile for safety so we can continue to bring the fun to Orlando events.
Clean, Disinfect, Protect
After an event, when our machines and other equipment are returned to us, we meticulously clean them so the next party can use them safely. We follow this process every time:
Thoroughly clean the entire surface area of the equipment.
Spray down and disinfect the equipment, getting rid of all germs and bacteria.
Spray equipment again with OMNISHIELD 500, providing 90-day protection against contamination, germs, viruses, bacteria and fungus.
Protecting Surfaces
OMNISHIELD 500 is an EPA-registered surface protectant that is safe for food surfaces, clothes and furniture, as well as most surfaces not made of glass. This helps prevent the growth of microorganisms and bacteria, therefore reducing the need to disinfect. Just to be safe, we still disinfect our equipment after every use, utilizing OMNISHIELD 500 as an added layer of protection.
Other Safety Measures
Along with keeping our equipment safe, our staff works to keep the party safe. We do our best to social distance while at your event and wear masks when interacting with clients. Along with our fun rentals, we also offer important items like hand sanitizer stations. Working in the event industry, we frequently find ourselves adapting to changes. This is a different kind of challenge, and we are ready to face it for the sake of our clients.
Here at Fun Planners, your safety is our top priority. We go above and beyond to keep our products safe so you can have peace of mind while utilizing our Orlando party rentals. If you want us to bring the fun to your event, give us a call at 407-955-4949 or contact us here.