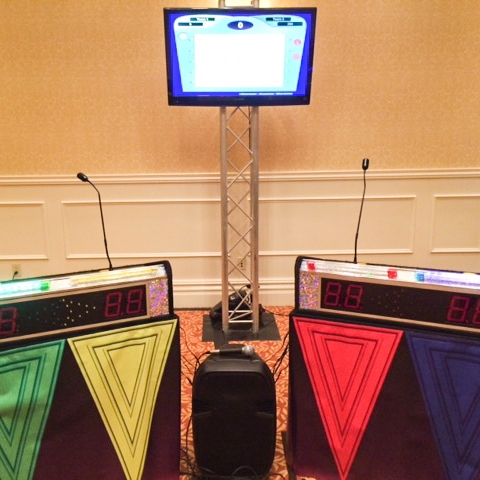 Are you a game show fanatic? Do you sit in front of your television and answer the questions? Bring those games to life, and challenge yourself and your guests at your event by renting game shows from Fun Planners! A great team-building activity that doesn't require physical work, test your knowledge with these game show products.
Game Show Mania
We've all watched game shows and tried to answer all of the questions correctly, secretly thinking we could do better. We could solve a puzzle faster, or we know more trivia. Bring the game show to your team of any size. Our game shows can be customized for any size group, style of event, or time frame. Whether you are looking to quiz your employees on their favorite food, favorite game show, new product launch, or company philosophy, this is the product for you. From speed rounds of trivia to spinning a wheel of fate, everyone will be excited and on the edge of their seats. Take your team-building competition to the next level by renting a set up from us, the experts in event planning.
Trivia Mania
Are any of your coworkers trivia masters? Find out by playing Trivia Mania! No matter if you need a game to run on its own at a trivia station or if you want a full game show presentation with a show, we've got a giant screen and podiums for you. This product can be customized to fit almost any of your event needs. You'll have the option to have up to 20 players or teams and are electronically scored with customer questions. All you need for power is 20 amps. Get a quote now on our website!
Team-building offers positivity, increases productivity, and betters communication for your employees. Don't let your staff get bogged down with the mundane day-to-day work. Motivate your team with events that encourage bonding and offer entertainment. When it comes to game rentals in Orlando, Fun Planners are industry experts. Give us a call at 407-955-4949, or contact us online, if you are planning an event. Our team is always here for you, near or far, and can help you take your event to the next level!