Trying to find the perfect country club to host your Florida corporate events with? Don't get stuck in a rough patch; there are plenty of venues in Orlando for your company! Golf and business go together like peanut butter and jelly. It's a classic way to unwind, make connections, and learn about who you're working with.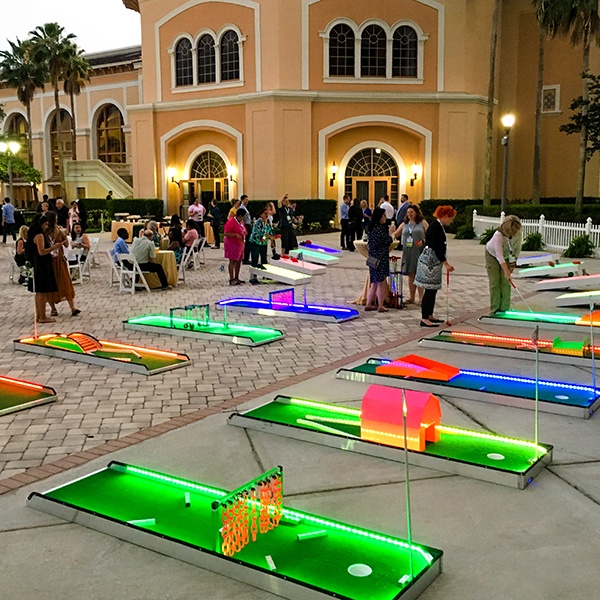 MetroWest Golf Club
This marvelous golf course and country club is located just 10 minutes from Universal Studios and 30 minutes from the airport. With a full 18-hole golf course, restaurants, and event rooms for anything from board meetings to dinner, retirement parties, and leadership events, their perfect location has you covered.
Rio Pinar Golf Club
Rio Pinar's elegant ballroom accommodates up to 200 guests for any event from training workshops to corporate meetings and more! Since opening in 1957, they have a wealth of experience in hosting PGA legends, tournaments, and events for any occasion.
Lake Nona Golf & Country Club
Located in the heart of southeast Orlando in the midst of the new, thriving city of Lake Nona, this place is hard to beat. Just 10 minutes from the airport means playing a couple of rounds with business partners who just arrived is easier than ever! With their awards of Platinum Club of the World and America, they are known around the country as an elite club and course.
The Country Club of Orlando
The gorgeous, old but gold country club is one of the first of its kind in the state of Florida. Since opening in 1911, this social center has been widely used for various celebrations — definitely more than 18, which is the number of holes they offer!
Arnold Palmer's Bay Hill Club & Lodge
Arnold Palmer's legendary home course and country club, and yes they have both lemonade and sweet tea in one glass. This magnificent greenery has hosted past PGA tours, provides 27 unbelievable holes, and has the capacity to host any corporate event under the Florida sunshine. Dine, swim, or play tennis with business associates with their other terrific amenities as well!
These venues are an all-in-one when it's time for your Florida corporate events, and you can show off your hole-in-one skills. Call 407-955-4949 or go online to receive a quote today. Be sure to contact any of these venues for more information!