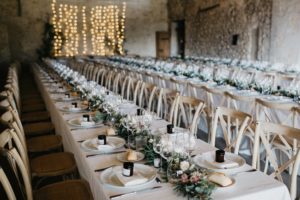 While your basic hotel conference room can work great as an event venue, there's no need to use it as a fallback option — Orlando is home to a wide variety of unique event venues! Take a look at a few of our favorite options that are sure to impress and wow your guests.
The Acre Orlando
In the words of Orlando Weekly, the Acre Orlando is "the best event space you never knew existed." If you're looking for a venue with rustic charm, natural light, tropical gardens, and tin-roofed charm, the Acre Orlando could be a great choice for your Orlando corporate event, grand celebration, wedding, or bridal/baby shower.
Leu Gardens
Located minutes from downtown Orlando, Leu Gardens is a semi-tropical, botanical oasis. It's home to nearly 50 acres of beautifully landscaped grounds, lakes, and trails, all sheltered by 200-year-old oaks and seas of camellias. They host weddings, receptions, and private events.
The Orlando Science Center
Did you know that the Orlando Science Center offers 200,000 square feet of exhibits turned event space? Whether you want a backdrop featuring a modern skyline or prehistoric dinosaurs, it's easy to transform this space into your dream venue. Make sure to check out their meetings and events guide!
Hub 925
This urban loft specializes in weddings, receptions, meetings, and private and corporate events. If you're hoping for an "industrial chic" feel, this is the venue for you. They have excellent customer service, and you can even take a virtual interactive tour of the space before going in for a meeting.
Mathers Social Gathering
Located in the heart of downtown, Mathers is an antique-filled, parlor-style cocktail lounge. They describe themselves as "a stylish, dark wood, exposed-brick filled hideaway housed on the third floor of a vintage furniture store from the late 1800s." They can accommodate 100 people seated and 200 people standing.
The Balcony Orlando
Are you hoping for a rooftop event? This elegant venue hovers 11 stories over the heart of downtown Orlando. Featuring over 10,000 square feet of outdoor space and 3,000 square feet of indoor space, guests can enjoy sweeping skyline views under quaint market lighting.
Gallery J Venue
Self-described as "a world of secrets hidden within an office warehouse complex and re-purposed art studio," Gallery J prides themselves on being "Orlando's most creative event venue." Hoping for a vintage Hollywood feel? A "Chicago meets Philly vibe?" An evening in Paris or Mardi Gras in New Orleans? All possible at Gallery J!
SNAP! Space
This indoor-outdoor, upscale, warehouse art gallery was named by BizBash as one of the top 5 venues in Orlando. However, keep in mind that they will not host weddings, promoted events, or ticketed functions.
The Pointe Orlando
If you're planning an exceptionally large event, The Pointe Orlando might be what you're looking for — they can host up to 10,000 guests! This venue is a great option for block-style parties or for events where guests are hoping to eat and party late into the night.
Whether you're planning an Orlando corporate event, a wedding, or even an awards ceremony, there's an Orlando venue for you. Contact us to find out how we can help you take your event to the next level!